New quotas and terms of salmon fishing announced in the Murmansk region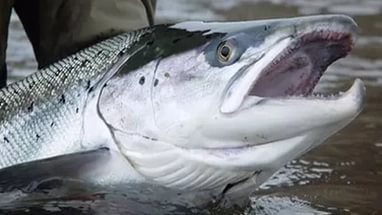 In 2017 Murmansk region may catch 95 tons of Atlantic salmon and 330 tons of pink salmon, reports the press-service of the Murmansk Regional Government referring to the Polar Research Institute of Marine Fishery and Oceanography.
"Out of these volumes 1.88 tons are earmarked for scientific-research purposes, 2.515 ton for breeding and 1 ton for traditional activities of the indigenous minorities of the North, the press-service specifies.
26.265 tons of salmon have been allocated for commercial and coastal fishing, 62.428 tons – for recreational and sport fishing. Pink salmon volumes are allocated by application principle.
Terms of Atlantic salmon fishing in the Barents water areas are 13/05-30/09/2017. The decision has been taken by the Murmansk Regional Commission on regulation of anadromous fish population chaired by the Governor of the Murmansk region Marina Kovtun.
---