7 cruise missiles fired in the Arctic region in the Northern Fleet's exercise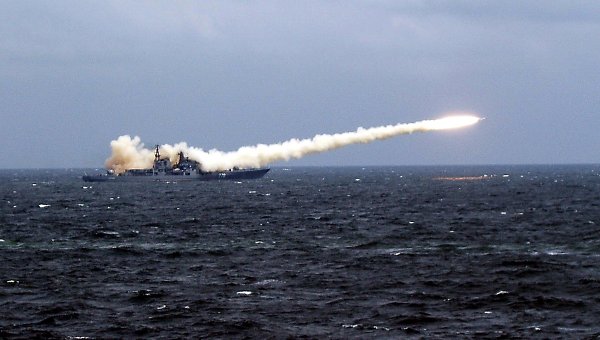 Today the Northern Fleet has completed the scheduled operational readiness check in the Arctic. The live fire exercise in the Barents, the White and the Laptev Seas involved firing of 7 sea- and land-based cruise missiles including launch of underwater missile from a nuclear submarine.
Lots of gun fire and air shoot was conducted as all-arms forces exercise. The practice exercise was conducted in the Northern Fleet's firing ranges in the Barents and the White Seas, as well as near the New Siberian Islands in the Laptev Sea.
"Altogether the scheduled operational readiness check of the Northern Fleet that was fulfilled simultaneously in several exercise areas involved around 35 combat ships and support vessels, including the Northern Fleet's flagship - battlecruiser "Pyotr Velikiy", over 15 aircrafts of 5 types, as well as atomic and diesel submarines," informed the Head of the press-service of the Northern Fleet, captain 1-st rank Vadim Serga.
In the framework of the summer-period exercise the ships' crews practiced over 30 operational readiness qualifying tasks.
Currently the all-arms forces of the Northern Fleet are in the downscale phase of exercise in the Barents Sea's firing range. During this phase when heading towards operational bases the ships will exercise support to vessels in distress. Certain ships together with support vessels will exercise offshore re-supply.
---