Aircraft carrier "Kuznetsov" can be tracked online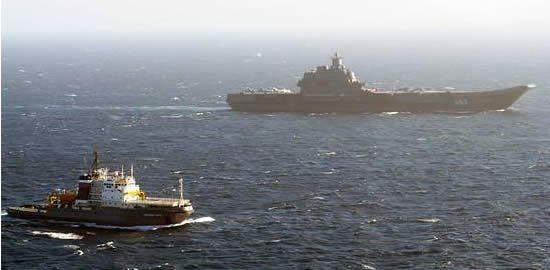 A number of ships belonging to the Northern Fleet including the heavy aicraft carrier "Kuznetsov" can be tracked online. The aircraft is followed by the ocean going rescue tug "Nikolay Chiker" while its entire movement is displayed at Marinetraffic web-site.
For instance on the 1st of November the tug sailed between Malta and Sicily.
"Nikolay Chiker" persistently convoys the aircraft carrier since it is the only tug capable of rescuing "Kuznetsov" in case of emergency. Therу is a video in the Internet showing the tug rescue the disabled aicraft carrier in the storm of force 6.
According to the description, the video was shot in February 2012 when "Admiral Kuznetsov" got disabled during sea training in the Bay of Biscay.
"Nikolay Chiker" is the world's largest and most powerfull rescue tug capable of saving vessels with displacement of up to 250 thousand tons in sea disturbence of force 8 at a speed of 4 kt.
We shall remind that the heavy aircraft carrier "Admiral Kuznetsov" and the heavy nuclear missile cruiser "Pyotr Velikiy" sailed off for the Mediterranean on Saturday, 15th of October. The group also included large anti-submarine ships "Severomorsk", "Vice-Admiral Kulakov" and support vessels.
---